Fall In Love with DaLori Designs' newest Choker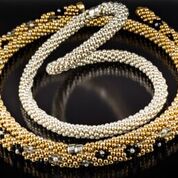 Now that Fall Fashion week has ended, we move into this season with some of our favorite trends. Excessive ruffles, use of bold colors, and furs (faux or real) filled the New York runways. In addition, Fall florals, blouson sleeves, plaid overcoats and gold metallic are this season's standouts. The most significant look in jewelry is this season is the choker. Whether you want a daytime look or nighttime elegance, our DaLori Design's choker will give that extra excitement to any outfit!
DALORI DESIGNS www.daloridesigns.com was created with the hope of reaching out to many women who share a common bond, or sense of belonging, whether it be to a college team, sorority or charity they support. Our bracelets are a personal symbol of their experience and the dreams they share with other women.